Fresh Air Packaged Units - Cooling
Freshcool
Full fresh air systems with integral cooling
Traditionally, full fresh air DX cooling systems serving operating theatres, conference rooms and call centres have remote mounted condensing units and site installed refrigerant pipework. Freshcool utilizes the room extract air and fan to dissipate the heat from the integral condensing unit.
The Freshcool integral cooling unit has a complete self contained refrigeration system consisting of a condenser coil, compressors, HP/LP switches, internal electrical wiring, compressor contactors, overloads, refrigerant pipe work and line components.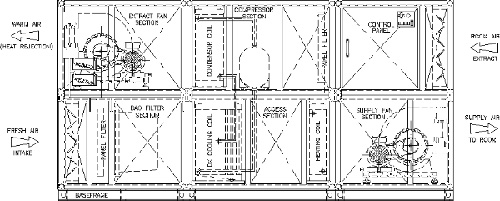 Click image to enlarge
Click here to view full size image
Environmentaly
friendly
systems.
Provides
good
indoor air
quality.
Hydrocarbon

benign refrigerant

available.
Freshcool benefits
No external condensing units.
3 steps of capacity control.
Reduced site installation time.
Components selected for optimum operation.
Capacities from 10Kw to 105Kw.
Refrigerant gas in system kept to a minimum.
R407C refrigerant as standard.
Competitively priced against remote condensing units.
System Options
Refrigerants Care 50 and R134a.
Control signal stepped 24V or 0-10V.
Heat recovery - Thermal wheel, plate heat exchanger or runaround coil.
Full pre-wired control system for all A.H.U. components.
Hot gas bypass.
Particular specifications including HTM 2025/CO4.
Internal or external mounting.
Alternative to F Gas
The Envirofresh and Freshcool are available with environmentally friendly Hydrocarbon refrigerant. Combine with VRV or chilled water systems to reduce F gas volumes.
For more information or professional advice and assistance please contact us on 0161 745 8888