Case Study
HMCE Edinburgh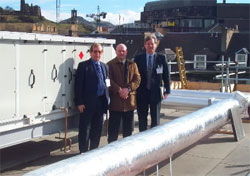 Auld Reekies's tax men get the fresh air treatment!
Natural hydrocarbon (HC) refrigerants are at the heart of a fresh air cooling solution for the refurbished H M Customs & Excise office in Edinburgh.
Two fresh air packaged heat pumps manufactured by Air Handlers Northern of Manchester were fitted to supplement the existing central air conditioning plant and fan coil units. CARE 50 from Calor Gas Refrigeration was chosen as the cooling medium because the system designers wanted the new equipment to operate free of synthetic refrigerants.
The roof-mounted heat pumps are both self-contained air handling units supplying tempered fresh air (3.3 and 1.35 m3/sec respectively) throughout the year to two wings of the four-storey office building. The design features 100% fresh air with heat recovery from the extract air. Mechanical heating and cooling is driven by twin compressors charged with CARE 50.
Fresh inlet air passes through a thyristor-controlled electric frost heater, plate heat exchanger and then the indoor coil for heating or cooling to the set temperature of 19 deg C. The extract air passes first through the plate heat exchanger, which recovers 50% of the waste heat, and then across the extract heat pump coil.
During heating mode, the efficiency is enhanced by the room extract air passing over the evaporator coil to achieve a compressor Coefficient of Performance (COP) of 4:1 and to minimise the requirement for defrosting the coil. Noise pollution is also kept to a minimum by the elimination of external condenser fans.
The use of natural HC refrigerant CARE 50 in tandem with heat recovery and heat pump efficiency was seen as an ideal combination to deliver an integrated environmentally benign and energy efficient solution.
"The properties of CARE make it ideal for minimising new equipment's impact on the environment" said David Clayton of Air Handlers. "It also works very well with a low energy solution like this one to ensure that the end client has the added benefit of very low running costs."
Consulting engineers, ACDP of Maidenhead, produced the original design brief, with Lorne Stewart's Leigh office and Foremans of Manchester responsible for the detailed design. Lorne Stewart, the M&E contractor for the refurbishment, also installed the two units.
CARE 50 is a blend of propane (R290) and ethane (R170) developed to replace R22, R404A and R407C with improved performance.
We supply and manufacture aircraft air handling, ECE ltd, barkell envirotec, VES, nuaire, flaktwoods, air source ventilation swegon, air handling systems, air handling unit manufacturers, AHU manufacturers, school air handling unit manufacturers, heat recovery air handling units, heat pump air handling units, low profile air handling units, low noise air handling units health care air handling units, packaged air handling units, modular air units, central station air handling units.